Two-channel dashcam NAVITEL RS2 DUO: high-quality recording of what is happening on the road and in the car
12 November 2021
NAVITEL® presents a novelty - RS2 DUO dashcam.
Thanks to the presence of two lenses, this model can simultaneously record on video everything that happens both on the road and inside the car. Equipped with glass optics and Sony STARVIS matrices for high-contrast and clear images when shooting, the NAVITEL RS2 DUO will become your faithful assistant on the road and an impartial witness in any disputable situation.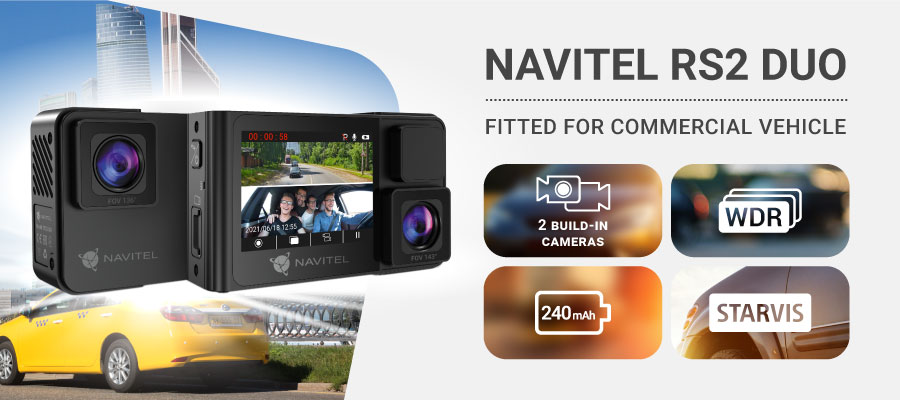 The front camera is equipped with glass optics and Sony STARVIS sensor with 136 ° angle of viewing, which allows you to record clear and smooth video at 1080p (30 frames / sec) in any light. The interior camera with a 143 ° viewing angle is additionally equipped with infrared LEDs, which automatically turn on in low light levels, and significantly improves the quality of night shooting and helps to accurately capture everything that happens, even when it is completely dark inside the car. This makes the NAVITEL RS2 DUO also suitable for use on commercial vehicles such as taxis. When transporting passengers, various situations may arise, for example, unlawful actions against the driver, they may forget things in the cabin, or a conflict may occur. Therefore, in any controversial situation, an impartial entry from the dash cam will be the best witness. Also, car sharing and logistics companies and other areas of commercial use of cars are often faced with the need to monitor the inside of a car while driving.
NAVITEL RS2 DUO supports microSD cards up to 256 GB. Video recording is carried out in a cyclic mode. The dashcam automatically starts recording when the car is started, and thanks to the "guard in the parking" (Parking) function, the device will turn on and record if the built-in shock sensor (G-sensor) detects vibration or shock on the parked car, even when the engine is turned off. The G-sensor is also triggered in the event of a sharp change in the speed or position of a moving vehicle. All video files made in such "emergency" situations are automatically saved on the memory card in a separate, overwrite-protected directory.
NAVITEL RS2 DUO is equipped with a bright 2" IPS display, which allows you to view video directly from the device. Recorded video files can also be viewed and copied for further processing directly from the dashcam by connecting it to the PC using a USB cable and selecting the "Mass storage" mode, and the convenient Navitel DVR Player PC software* provides users with advanced options for working and editing video files from the dashcam.
A modern dashcam with a magnetic mount will perfectly fit into the interior of any car. You can use NAVITEL RS2 DUO immediately after purchase, "out of the box" - just insert a microSD memory card of the desired size into it. Ease of setting will make it possible to do without special knowledge, and even an unprepared user can set all the necessary modes and values.
Package contents: dashcam NAVITEL RS2 DUO, car windshield mount, car charger, mini-USB to USB cable, user manual, warranty card and gift voucher for the Navitel Navigator program**.
Main features:
Front-camera:
- Camera sensor Sony 307 (STARVIS)
- Video resolution 1920х1080 Full HD (30 frames per second)
- Viewing angle 136°
Interior camera:
Camera sensor Sony 307 (STARVIS)
Video resolution 1920х1080 Full HD (30 frames per second)
Viewing angle 143°
Screen IPS 2"
Supports microSD up to 256 GB
Color dark gray
Windshield mount 3M adhesive tape
Dimensions of the device (without holder) 33x76x47 mm
---
* Navitel DVR Player is compatible with Windows PC only.
** Gift voucher for an annual license of Navitel Navigator for smartphones and tablets on Android OS with maps of 43 European countries, as well as Russia, Belarus, Kazakhstan and Ukraine.