NAVITEL® launches NAVITEL R600 Quad HD DVR
8 October 2018
NAVITEL® announces the launch of a new digital video recorder NAVITEL R600 Quad HD. This compact camera is a perfect high-quality device with extremely high video resolution.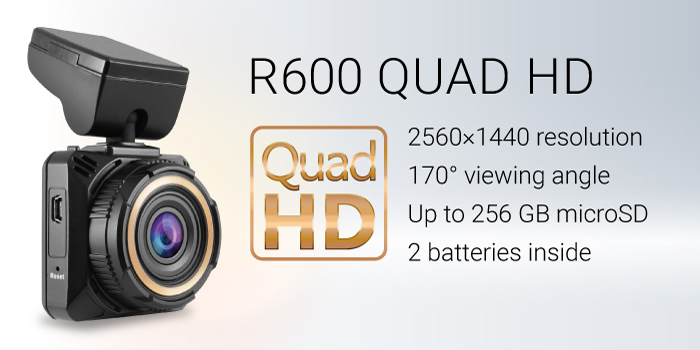 NAVITEL R600 Quad HD is a powerful DVR with extremely high resolution of photo and video and high-quality glass optics. This modern device can be very useful on the road and on a parking lot.
The new DVR is distinguished from the model of R600 by Quad HD video resolution (2560 × 1440 pixels). The name Quad HD reflects the fact that it has four times as many pixels as HD (720p). Quad HD also commonly referred to QHD, refers to a resolution standard seen widely on computer monitors, laptops and some mobile devices.
NAVITEL R600 Quad HD has a panoramic viewing angle of 170°. All the footage can be stored on additional microSD cards up to 256 GB.
The DVR has a 2-inch TN-display. There is a built-in microphone for high-quality audio recording.
The G-sensor function saves important videos in case of any emergency. It fixes abrupt acceleration and braking, car rotation and other extraordinary situations. In such cases the video fragments will be marked as special footage and will be protected from getting overwritten. Another important function is parking mode. NAVITEL R600 Quad HD can detect vibration or movement and start recording even when the car is parked, the driver is absent and the device is turned off.
NAVITEL R600 Quad HD can easily be installed in a car by using accessories included in the package.
Package contents:
DVR NAVITEL R600 Quad HD
Windscreen holder
Car charger
miniUSB cable
User manual
Warranty card
Microfiber cloth
Gift voucher